Local Missionaries Give Update to Lions Club
Posted on:

15 May 2016

By:

administrator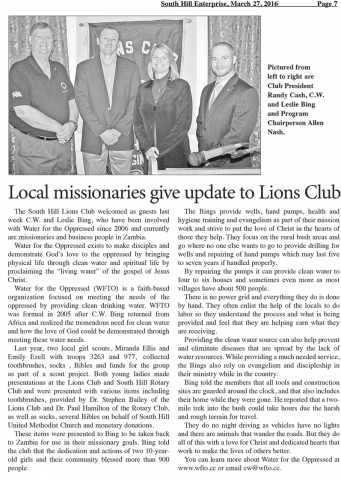 Written by The South Hill Enterprise Staff
March 27, 2016
The South Hill Lions Club welcomed as guests last week C.W. and Leslie Bing, who have been involved with Water for the Oppressed since 2006 and currently are missionaries in Zambia.
Water for the Oppressed exists to make disciples and demonstrate God's love to the oppressed by bringing physical life through clean water and spiritual life by proclaiming the "living water" of the gospel of Jesus Christ.
Water for the Oppressed (WFTO) is a faith-based organization focused on meeting the needs of the oppressed by providing clean drinking water. WFTO was formed in 2005 after C.W. Bing returned from Africa and realized the tremendous need for clean water and how the love of God could be demonstrated through meeting these water needs.
Last year, two local girl scouts, Miranda Ellis and Emily Ezell with troops 3263 and 977, collected toothbrushes, socks , Bibles and funds for the group as part of a scout project. Both young ladies made presentations at the Lions Club and South Hill Rotary Club and were presented with various items including toothbrushes, provided by Dr. Stephen Bailey of the Lions Club and Dr. Paul Hamilton of the Rotary Club, as well as socks, several Bibles on behalf of South Hill United Methodist Church and monetary donations.
These items were presented to Bing to be taken back to Zambia for use in their missionary goals. Bing told the club that the dedication and actions of two 10-year- old girls and their community blessed more than 900 people.
The Bings provide wells, hand pumps, health and hygiene training and evangelism as part of their mission work and strive to put the love of Christ in the hearts of those they help. They focus on the rural bush areas and go where no one else wants to go to provide drilling for wells and repairing of hand pumps which may last five to seven years if handled properly.
By repairing the pumps, they can provide clean water to four to six houses and sometimes even more as most villages have about 500 people.
There is no power grid and everything they do is done by hand. They often enlist the help of the locals to do labor so they understand the process and what is being provided and feel that they are helping earn what they are receiving.
Providing the clean water source can also help prevent and eliminate diseases that are spread by the lack of water resources. While providing a much needed service, the Bings also rely on evangelism and discipleship in their ministry while in the country.
Bing told the members that all tools and construction sites are guarded around the clock, and that also includes their home while they were gone. He reported that a two-mile trek into the bush could take hours due the harsh and rough terrain for travel.
They do no night driving as vehicles have no lights and there are animals that wander the roads. But they do all of this with a love for Christ and dedicated hearts that work to make the lives of others better.
You can learn more about Water for the Oppressed at www.wfto.cc or email cw@wfto.cc.