Local woman helps with a project to benefit young women in under developed countries
Posted on:

15 May 2016

By:

administrator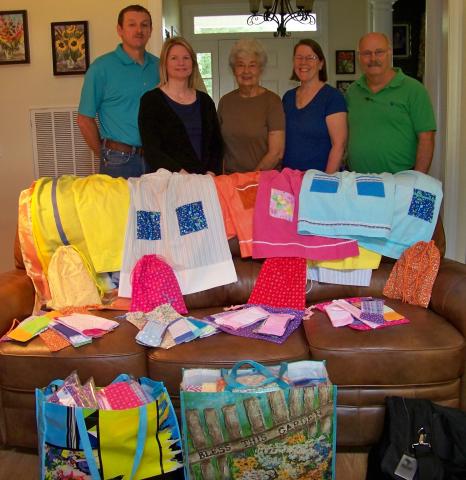 Claude and Leslie Bing with Water for the Oppressed (which has local connections) will be traveling back to Zambia this month and will be taking with them to add to their ministry personal hygiene products and girls dresses made in South Hill by Susan Carroll and some of her friends that are volunteering to help with this project. Not only does WFTO repair and provide water pumps for clean water in that country, they also teach people about personal hygiene and how to take care of themselves for a healthier life in an under developed country. This is just the first shipment and Susan hopes to continue to make the products with more volunteers as well as being able to send to other locations through various church ministries or mission trips as well as through the Gleaning for the World WINGS project. Pictured: Claude and Leslie Bing, volunteer Midge Shipley and Susan and Rick Carroll (who volunteers with Upper Room Ministries in South Hill). Lisa Clary Photo
Written By Lisa E. Clary
Sun Staff Writer
As American women, we tend to take some everything day things in life for granted. But imagine you were told, that for four days every month, you could not leave your house, go to school, go to work or talk to your friends and family. You are in total isolation. That is what millions of women in developing countries are forced to deal with during their monthly cycle. But there are organizations in the world working to change that and locally Susan Carroll from South Hill recently became involved by learning to sew the feminine hygiene products young girls need and is helping by creating kits to be sent to other countries. And just this month, she teamed with Claude and Leslie Bing with Water for the Oppressed to ship her first supply of the products (plus 21 handmade dresses) to Zambia where the Bings work with Water for the Oppressed repairing hand pumps for clean water that is also another necessity in teaching young women about proper hygiene.
Susan was looking for something for her mother to do and researched several sites including Gleaning for the Worlds WINGS project and this one offered information and teaching classes on how to make the product so Susan travelled to Concord, VA to learn how she could help young women in other countries have a feeling of self-worth at a time of the month that many could not even mention. Gleaning for the World's new women's program is an incredible solution to the problem of improper hygiene and lack of products in other countries. These kits provide all the supplies women need for their monthly cycle. Kits can last a woman up to three years. That is an extra nine months of education, income and freedom. What's more, it helps improve their self-esteem and empowers them to reclaim their future. No longer do they have to hide each month or dig through garbage to find makeshift supplies. They have developed a wash-and-reuse pad which will last for three years and they provide these sustainable pads with supplies such as underwear, soap, sanitation instructions and more to help them care for themselves. The advantages of these kits over other options include that there is no cultural stigmas about its use. Very little learning curve as these kits are easy and intuitive to figure out and are less messy and avoid spills that other products are prone to. They are easily changed and do not require complete undressing for replacement. And they are much cheaper than store bought products and you don't have to worry about disposing of them in a country where the mention of the monthly cycle is often taboo.
These kits are assembled by volunteers in Central and Southwest Virginia and due to the donation of supplies and volunteers they are able to produce these kits at a far below retail price (Gleaning asks for a $15 donation to provide one woman with one kit.) And now Susan as well as other volunteer ladies who have offered help are working in her spare time in this area to create kits that can be used through Gleaning for the World or any organization or church mission group that can take (or ship) an extra bag with them when traveling to other countries on mission trips. She has had some donations of materials from individuals and Upper Room Ministries (who is also donating the funds for the cost of shipping the duffle bag of supplies to Zambia with the Bings) so far to help with preparing the kits that include two shields, 8 liners and a small carry bag. She was very excited and hopes that her project will generate interest as so far the mere mention of the project at her home set the wheels in motion for connections to be made so that her hard work (and kind heart) would be recognized and utilized. The Bings just happened to be back in the states at their home here and were asked if they could help or could they use the products when they got back to Zambia and they responded with a huge yes and Susan and her group continued the mission of making the kits. She hopes others will want to volunteer to help in some way and she would like to see others who need something to do in their spare time get together to help if they so desire. She has had several sewing machines donated, and she has a serger (with the promise of another one to be purchased) and she would like to find the use of a small room or building at no cost so those interested in fellowship and sewing can come together to make the product. She can also show them how to make the kits if they want to do it on their own, but her goal is to bring more people together to make more products while getting to know each other as well. And not only can you help with the feminine hygiene project, you can also help with the Dress a Day project. You can cut, sew, glue or fill bags and it is all fairly easy. Although she would like to ramp up the hygiene project she has also spent time making dresses from pillowcases. She read about the brainchild of Lillian Weber from Iowa, who at 101 years old makes a dress from scratch every single day so that a child in need will have something beautiful to wear in other countries. Susan thought this was a great way to help and with donated pillowcases that she dyed different colors, she will also be sending 21 dresses to Zambia along with 60 feminine hygiene kits along with monetary donations for the Bings to add what is needed when they arrive back in Zambia at the end of May.
This batch of kits will be used and distributed through Water for the Oppressed which is a faith based organization that provides clean water to the impoverished people of Zambia, Africa. WFTO drills new water wells, repairs broken hand pumps, teaches a health and hygiene curriculum, and shares the Gospel through Word and deed. And the Bings, who live there part of the year and travel the bush to bring needed services to underdeveloped areas, will be teaching those receiving them about hygiene along with how to keep clean water available to live a healthier life. They will also teach the people about humanity and those who work to help others across the world while bringing necessities and the word of God to people in land that needs to be taught how to survive on what they have and what is sent to them to give them a better chance of living a longer life.
If you would like to help make the items, donate materials, or become a member of a group that could meet once a week or so then Susan Carroll would be interested in hearing from you. If you have material to donate (flannel or 100 per cent cotton) or pillowcases for dresses, you can drop it off at the Upper Room next to the Medicine Shoppe in South Hill. If you have unused space they could use for the production of sewing, etc. and can hold a few volunteers that would also be appreciated. If you are taking a mission trip in the future and can take an extra bag, then let Susan know and if product is available she will be glad to get you the kits. You can call her at 434-447-7898 for more information. If you would just like to make a difference in someone's life, even someone you don't know far away, then this is one way you can become a part of much bigger project in a much bigger world. Imagine changing the life of a young woman and giving her a chance to later make a difference of her own in someone's life. Just imagine how far a project can take those involved. It can take you around the world and you can help change the world.